Products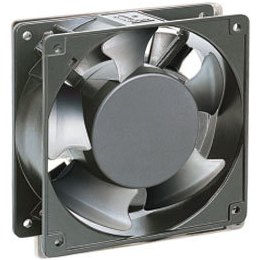 Ac Axial Fan (Plastic Blade) :
These are also referred to as compact fans, equipment fans and electronic cooling fans. Small general purpose fans in industry standard frame housings. Available for standard AC supplies and special low 'safety' voltages; normally dual 50/60Hz frequencies. These compact AC axial flow fans are available in mounting bases ranging from 80 mm to 220 mm. These fans are equipped with excellent safety features, meeting , CSA, CE and EN/IEC standards making them most suitable for   applications such as Control Panels, Strapping machine, Uninterrupted Power Supply, Vending Machine, Currency Counting Machines, Welding Machine etc.
---
Compact fans but sturdy Aluminum die-casted frame these fans come in Shaded Pole motor with inner rotor running, resistance protection and Metal Blades. They operate on double high precise ball bearings and run on an Ambient Temperature Range: -20℃~+70℃  (ball bearing) under un concretionary state. They provide highest protection since the motors are of protection Grade: IP54 make them most conducive for corrosive environments.
---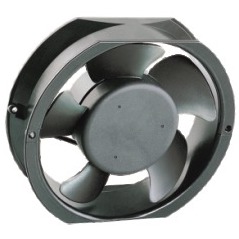 Dc Brushless Fan (Plastic Blade) :
These compact fans are equally available with electronically commutated D.C Fans to suit standard power supply and battery voltages. These fans are equipped with excellent safety features, meeting, CSA, CE and EN/IEC standards making them optimal for cooling DC equipment, Power Supplies, Overhead Projector, Computer systems & peripherals, Telecommunication Equipments.
---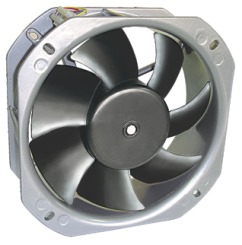 Dc Brushless Fan (Metal Blade) :
DC Brushless Fan is an essential component for almost every electronic applications operating on direct current. It performs the most important and crucial task of cooling and ventilation of an apparatus enabling enhanced efficiency and longer life. This cooling fan is made up of a DC brushless motor and is available with sleeve and ball bearing and in different sizes. DC brushless fans are mainly used in Panel Instruments, Power Supplies, Overhead Projector, Currency counting machines, Computer systems & peripherals, Telecommunication Equipments.
---
These are small general purpose fans available in industry Fame housing, standard sizes ranging from 120 mm to 220 mm for Ac supplies. These fans are suitable for all your ventilation and air circulation needs, we presents a wide range of superior exhaust fans. Our ventilation fans include bathroom exhaust fans, exhaust fans for kitchen interiors, as well as exhaust fans for workplaces. Equipped with advanced technology, low power consumption and lesser noise, our exhaust fans are compact yet powerful, making them suitable for al types of interiors.
---
The Large Axial Fans (External Rotor Motors) with features of Compact Structure, Stable Running, Low Noise, Big Air Flow, Convenient Installation, High Stability and Efficiency, Best Possible Cooling, 100% Speed Infinity controllable external rotor motors with Low Starting Current. Protection class IP54 and Insulation of Grade B and F. All units are available with Single Phase 230V and Three Phase 415V. These fans are supplied with ball bearing Average life for  these fans 30,000 to 50,000 hours base on different environment/ condition of using.
---
These motors are the most compact in design to accommodate largest horsepower. Available in four pole, single phase design we provide a range of motors from 5 watts to 34 watts. These motors with their sturdy structure and with self lubricating sintered bushing providing motor lubrication for life these motors are a guarantee for quality reliability. Applications: Deep freezers, Chest coolers, Visi Coolers, Condenser cooling applications, Freezers, Display Units etc.
---
Rexnord's C frame shaded pole is excellent for applications where constant speed, low noise, long life and high reliability are required. The frame sizes range from 10mm to 25mm and output power ranges from 1.5 watts to 3 watts. Offering both horizontal or vertical mounting to suit customer's needs these motors are optimal for OEM applications like No Frost, Water coolers, Instrument Fans, Medical equipment, Stirrers  etc.
---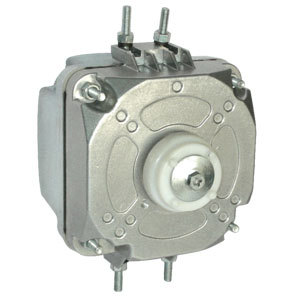 EC Motor :
ECM Series motor, is next generation motor, built with electronically commutating technology. It is a high efficient energy – saving product. The efficiency rate is more than 60%, which is three times more efficient compared to a shaded pole motor. On the basis of the same output power, the input power will be reduced upto 70%, which can save the energy and reduce the emission of CO₂ effectively. It is widely used in cooler, cabinet, refrigerator, and other similar products.
---
Gear motors are designed and built to meet the strictest performance demands for long life and trouble free application for original equipment manufacturers. These 2 Pole shaded pole AC motors have output speed fixed at 85 RPM at 50 Hz. Its self lubricating derlin gear helps to minimize noise level and engineered plastic and sintered iron wide-face gears for higher torque requirements. Perfect aligned & matched gears on ground pins assembled in Aluminum die- cast housing making them optimal for applications such as vending machines, appliances, Automatic Merchandising Machines and polishing machines.
---
Fan Accessories includes Finger Guards – Metal and Plastic. They are available as per the sizes of the fans.
Motor Accessories includes Aluminium fan blades having diameter 154mm, 172mm, 200, 254mm,   300mm and offers either reverse or throw air flow as required used for shaded pole   motors Q  frame type. Plastic Fan blades having diameter 90mm,100mm and 150mm offers throw air flow  used with Shaded Pole Motors C frame type. Metal brackets for Q motors with 72mm, 84mm,    110mm height and for C motor 95mm height. Basket Grills with 51mm,93mm and Flat Grill for Q  motors.